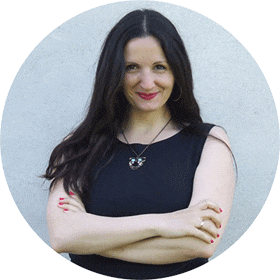 When I was a little girl, I knew I'll be a teacher. But I imagined a classroom full of children.
I never dreamed that I'd become an online teacher.
Now I happily work with adults, not children!
Because I work with intelligent and motivated adults. Some of my students are successful teachers, university professors and researchers, many are professionals or business owners…
They're all fun to talk with.
I also love when my students come to Serbia. Some of them were my guests in Sremska Mitrovica. I met others in Belgrade, Novi Sad or Smederevo.
It's always exciting to meet you guys in person! After so many hours that we've seen each other on camera…
I love that!
And I happily work online, not in classroom!
Another thing that I love about my job is that I'm free. I don't have to go anywhere and I can work from wherever I am.
Even when I'm away from my computer – which is almost never, ha! – I always have a pen and my notebook to jot down ideas.
I think of my students even offline. I plan how to help them in the best possible way for them: what text we should use, what skill they need to exercise and how, what's difficult for them and how to solve that.
I've started teaching in 2004, when I was still a student. (I studied Serbian Literature and Language in Novi Sad.)
At first, I must confess, I was obsessed with grammar – like so many language teachers.
Since then, I've matured and my teaching has evolved.
Now I give grammar in teaspoons with a glass of vocabulary and practice – just like you should take "slatko" with a glass of water.
I love languages and I've learned 12 to a different extent. I speak English, Greek, Italian, Spanish and some French.
This video is my teacher presentation I filmed for Italki. You can hear me speak different languages.
I know, I should make a new one for this page, but there are so many things I want to do…
My mission

 
is to help you make sense of our complex grammar – gradually, in the most efficient way, while expanding your vocabulary and learning about the culture and lifestyle.
My method
is based on communication. I make my students communicate in their target language from the first lesson. With me you'll train to use grammar naturally and to speak with confidence. 
My online Serbian or Croatian lessons are 60 minutes long and include:
fun, laugh and h

ard work;

reading, writing, listening and speaking practice;

grammar and communication training;

information about culture and customs;

homework checked out of the lesson;

after-class email support.
You only need:
willingness to learn,

a stable internet connection,

a free Skype or Zoom account,

a device with screen big enough for you to see well,

a notebook and a pen,

and preferably a set of headphones.
If you are determined to master
Serbian or Croatian
and if you love communicating,
I want to be your teacher and I'm  looking forward  to  hearing  from  YOU.
Your first lesson is free of charge and with no obligations.
DISCLAIMER
Be aware that you cannot master a completely new language in a month or two. 
There is no magic pill. 
Learning a new language requires many hours of studying and practice. 
It takes time and effort.
You must be serious about learning and ready to commit. 
If you are starting from scratch, with no previous experience with the Slavic languages,
it will take you about a year to get real results if you study about 2 or 3 hours a week.