Learn Serbian quickly and efficiently with our online course
Effective method. First-class material.
VIDEO lectures, MP3 audios, PDF coursebooks.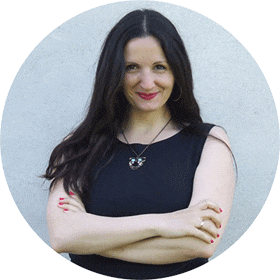 Hello! I'm Magdalena,

 a dedicated Serbian and Croatian language teacher,

 a polyglot and a language learner.
I help people around the world learn to speak Serbian and Croatian confidently.
I use the best books there are and I create Serbian online courses and other learning materials to help you learn Serbian and speak with confidence. 
I developed my own method for learning Serbian: Tako Lako.
In my online Serbian school, you can decide to take my pre-recorded online beginner Serbian course, or you can choose to have live lessons with me, or both.
Magdalena is an outstanding teacher of Serbian and Croatian. Coming with a smattering of Serbian, I can proudly say that within less than two years I am now somewhere between B2 and C1, thanks to Magdalena's precise and incisive instruction of the language (including all four domains and with a special emphasis, due to my request, on a deep understanding of grammar and structures) and the Yugoslav culture.
Orel
History student, Israel
What I find particularly great about our lessons is the way Lena is able to combine a structured lesson plan, while also allowing my questions to personalize each class. She gives very clear explanations, using Serbian as much as possible. She is professional, friendly, and easy to talk with. I thoroughly enjoy our lessons and feel like I've improved a lot since we started! Hvala puno, Leno!
John
University researcher and teacher, Oxford
Magdalena is incredibly engaging and she encourages me to speak Serbian by asking questions in Serbian that are challenging but never impossible. I look forward to more great lessons with her.
Yu Tien
Translator and interpreter, Beijing
I've been taking Croatian lessons from Magdalena for over two years. She is always prepared, has the answers to all of my grammar questions, and constantly finds interesting new lessons to teach. If you're like me and want structure, homework, and real communication, Magdalena is the teacher for you!
Brian
Enterpreneur, Minessota
Magdalena is an excellent and experienced teacher, plus she's nice and funny. We talked about verbal aspect, one of the trickiest things in Serbian, and she made it very interesting and much clearer.
Audrey
Film editor, Belgium