Serbian and Croatian courses beyond textbooks
Online lessons of real-life Serbian and Croatian
language, grammar, culture and customs
You can choose to take individual lessons or you can learn together with a partner. Fun learning and progress are guaranteed.
Lessons are 60 minutes long and include:
reading, writing, listening and speaking practice,

grammar and communication training,

information about culture and customs,

homework checked out of the lesson,

after-class email support,

video and audio lessons for beginners to give your memory a boost as you study at home, in a park or while commuting.
You only need a stable internet connection, a device with screen big enough for you to see well and preferably headphones.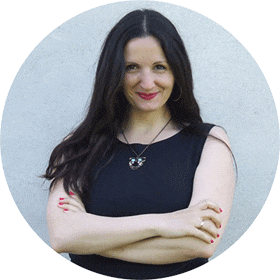 I am a dedicated Serbian and Croatian language teacher. I have been teaching languages since 2005. My name is Magdalena Petrović Jelić.
I am also a polyglot and a language learner. Apart from Serbian and Croatian, I speak English, Greek, Italian, Spanish and French. At the moment I'm learning German and Russian.
I coauthored the Glossika's Serbian course and I developed my own method for learning Serbian:

Tako Lako – Serbian made easier

.
Here's what my students say:
Magdalena is an excellent and experienced teacher, plus she's nice and funny. We talked about verbal aspect, one of the trickiest things in Serbian, and she made it very interesting and much clearer.
Audrey
I've been taking Croatian lessons from Magdalena for over two years.  She is always prepared, has the answers to all of my grammar questions, and constantly finds interesting new lessons to teach.  If you're like me and want structure, homework, and real communication, Magdalena is the teacher for you!
Brian
What I find particularly great about our lessons is the way Lena is able to combine a structured lesson plan, while also allowing my questions to personalize each class. She gives very clear explanations for vocabulary and grammar, using Serbian as much as possible. Lena is professional, friendly, and easy to talk with. I thoroughly enjoy our lessons and feel like I've improved a lot since we started! Hvala puno, Leno!
John
Magdalena is incredibly engaging and she encourages me to speak Serbian by asking questions in Serbian that are challenging but never impossible. I look forward to more great lessons with her.
Yu Tien
I like the materials and find Magdalena's presentation very clear. I like how the target language is used from the start. Even if I'm quite nervous, she is encouraging and allows me time to think and I don't feel pressured. At the end of every lesson, I feel like I've really learned something. Hvala lepo!
Michael
Magdalena really is an excellent teacher! She is always positive, knowledgeable and strict enough. Lessons are interesting with her and it is never boring. Thank you!
Laura