Serbian Cyrillic Reader A1-A2
Unique course of the Serbian language and culture
Who are the most famous Serbs? What are the Serbian national dishes? What are the best national parks in Serbia? How we celebrate our most important holidays?
Learn most interesting things about Serbia and the Serbs and master the Serbian Cyrillic script effortlessly with the new Serbian Reader course.
Peak Inside the Serbian Cyrillic Reader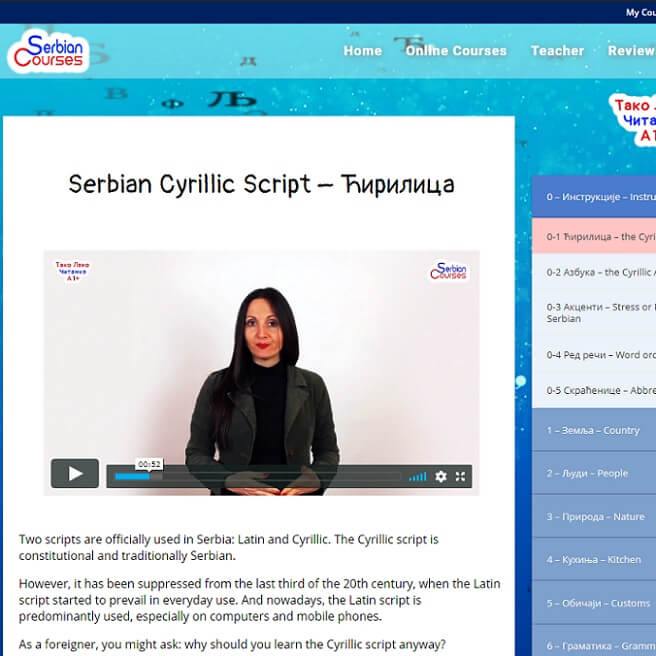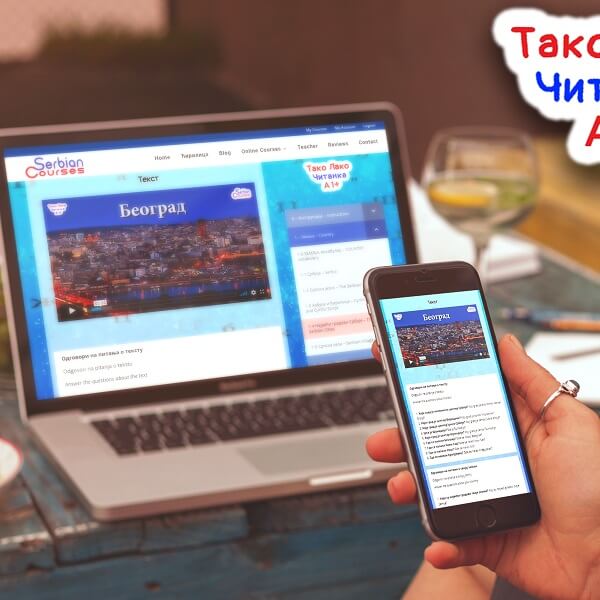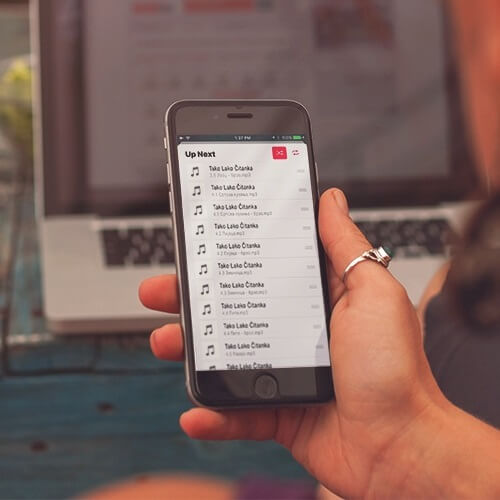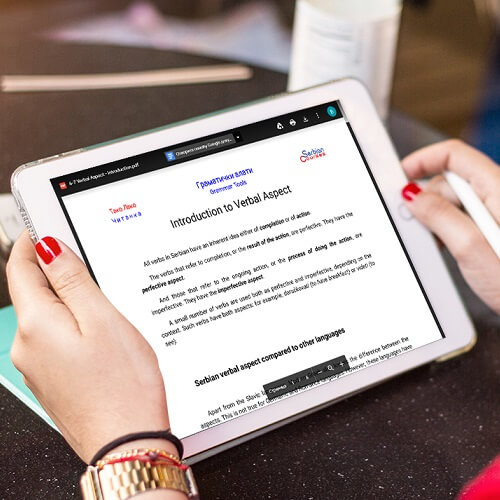 Level: A1-A2
Requires basic knowledge of Serbian and good command of Serbian Latin script
Setting: Online
Self-study course, hosted on our website
Completion: 6 months
Studying 2-3 hours a week
World Class Educator
Professional Serbian language teacher, native Serbian speaker and a polyglot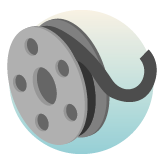 Detailed instructions
Video lessons and written notes, about the Serbian Cyrillic script and alphabet, word stress and accents, and word order.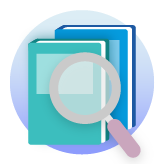 Grammar lessons
Grammar references and written explanations to clear all your doubts about cases, pronouns, verbs and more.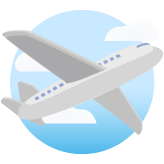 Memorable vocabulary
Vocabulary with vivid images and audio recordings, to help you learn quickly. Learning vocabulary in time helps you understand more.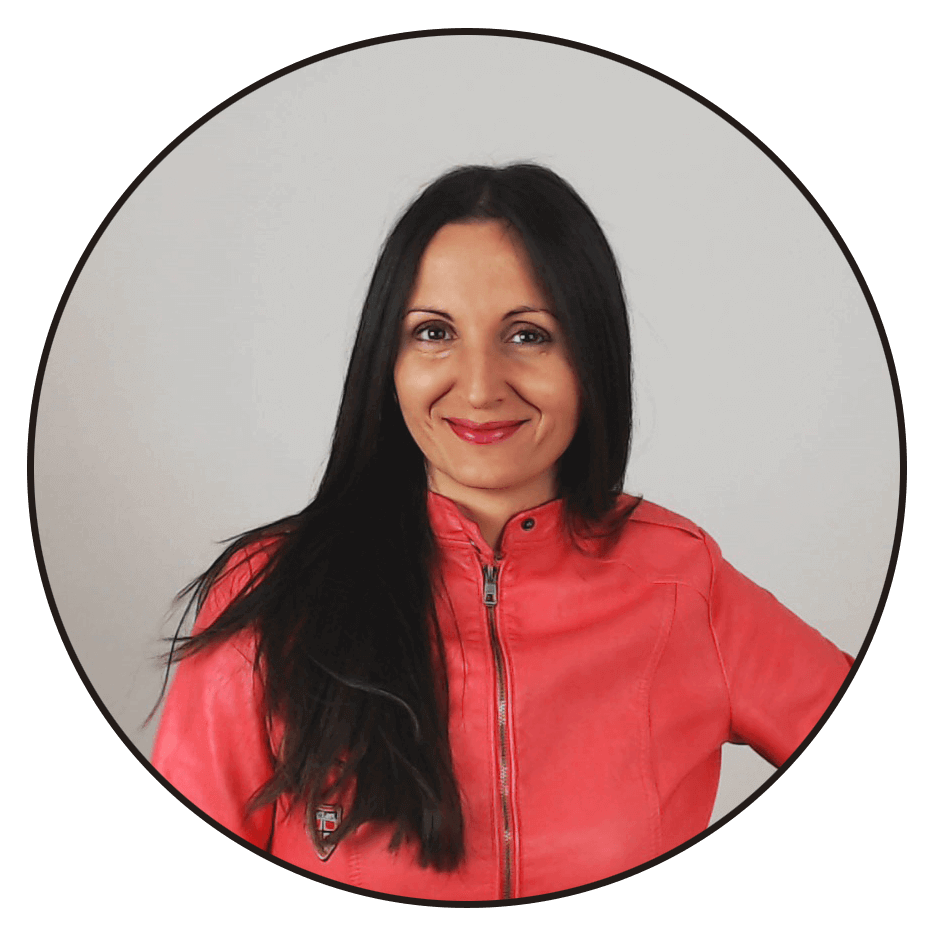 Instructor and Creator of the Course
Magdalena Petrović Jelić, a professional Serbian language teacher, a passionate language learner and a polyglot. Teaching languages since 2004 and on the quest of creating the most effective method for learning Serbian as a foreign language.
At your disposal for any questions or doubts that might occur along the way.
Is the Serbian Cyrillic Reader for you?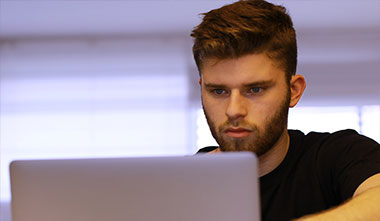 Why to learn Cyrillic?
Everyone who's learning Serbian should be able at least to read, if not to write, Cyrillic.
The Cyrillic script is a crucial part of Serbian tradition and identity. It's the constitutional script and all official documents are printed in it. Almost a half of all texts are printed or written in the Cyrillic script. It's perfect for Serbian, as it actualizes the rule of "one letter for each sound".
Every child in Serbia can read and write both Latin and Cyrillic script. Why don't you try? It's easy to learn.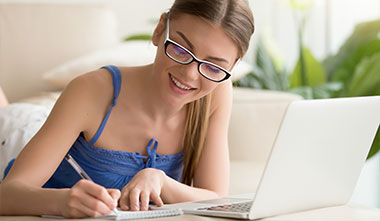 What's inside?
Stories about Serbia organized in 5 modules with 5 main topics: country, celebrities, nature, cuisine and customs. All texts are downloadable as pdf and mp3, so you can continue learning even offline.
The stories are in Serbian Cyrillic, Serbian Latin and English translation. There are slow and fast audio recordings, to help you easily master the material.
Do you enjoy learning about culture and lifestyle? This course is for you.
This course is excellent, too! I really liked the vocabulary section before the video. Students can learn the main vocabulary before they move on to listening to the video and seeing if they can pick those words out by ear. The placement of the Latin script directly below the Cyrillic is also a really good idea. Students can match and compare the two scripts as they read.
Sarah Caroline
Teacher and translator
London, UK
This course is fabulous!  It contains everything I wanted to know about the Serbian language, but was afraid to ask… or didn't know I needed to ask. The unit about stress or pitch in Serbian blew me away! And I enjoy how your sense of humor comes out. Your videos are superb! And I particularly appreciate the colors – it is very easy on the eye.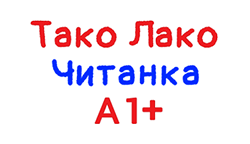 Enter the students' zone now and explore the Serbian Cyrillic Reader with no obligations.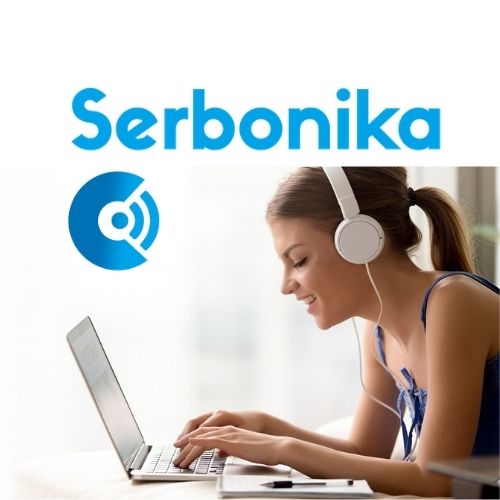 Included in Serbonika
The Serbian Cyrillic Reader Course is UNAVAILABLE for sale since January 2021.
It will be included in our new platform Serbonika and upgraded with more materials, more exercises, more options and features, so your Serbian learning experience will be even better!
See you at Serbonika!
Serbian Cyrillic Reader A1-A2: Captivating Course of Serbian Language & Culture
Learn most interesting things about Serbia and the Serbs and master the Serbian Cyrillic script effortlessly with the new captivating course by Serbian Courses
Course Provider: Organization
Course Provider Name: Serbian Courses
Course Provider URL: https://www.serbiancourses.com/magdalena-petrovic-jelic-serbian-teacher/